Türkiye's premier drone manufacturer is showcasing its latest generation of unmanned combat aerial platforms boasting features that will make them even more advanced than the existing ones that helped the company acclaim global fame.
Baykar's drones have transformed Türkiye into a major global supplier and became integral to President Recep Tayyip Erdoğan's vision of a self-reliant defense industry, spanning from unmanned combat aerial vehicles (UCAVs) to fighter jets and warships, all aimed at reinforcing the country's assertive foreign policy in an unstable region.
Its Bayraktar TB2 drones helped swing conflicts in multiple countries, such as Azerbaijan and Libya, and lastly in Ukraine, where they played a pivotal role in countering Russian forces early into Moscow's invasion.
This further elevated already buoyant TB2 sales. Selçuk Bayraktar, Baykar's chief technology officer, says the drone has been exported to more than 30 countries to date.
The TB2 can fly for more than 20 hours at 27,000 feet, can carry a load of up to 120 kilograms (265 pounds), and weighs only 650 kilograms.
It is the system that has destroyed the most air defense weapons and tanks in the world to date, Bayraktar told an interview with Bloomberg News.
Baykar's latest deal with Saudi Arabia signed during Erdoğan's visit to the kingdom in mid-July will see it supply more than $3 billion worth of landmark combat done Akıncı, the larger sibling of TB2, Bayraktar said.
First delivered to Turkish armed forces in late August 2021, Akıncı can fly much higher and take off with 10 times the weight.
Bayraktar detailed the company's expansion plans, striving to strengthen Türkiye's global presence. Baykar aims at an extensive push to secure markets across Africa, Europe, and Asia with an array of new models.
Its plans encompass the mass production of its two new advanced drones that are aimed for deployment from Türkiye's newly commissioned aircraft carrier, the TCG Anadolu.
The ship's air wing is expected to consist mostly of Baykar's TB3s, a short-runway-capable version of the TB2, and the unmanned fighter jet Kızılelma.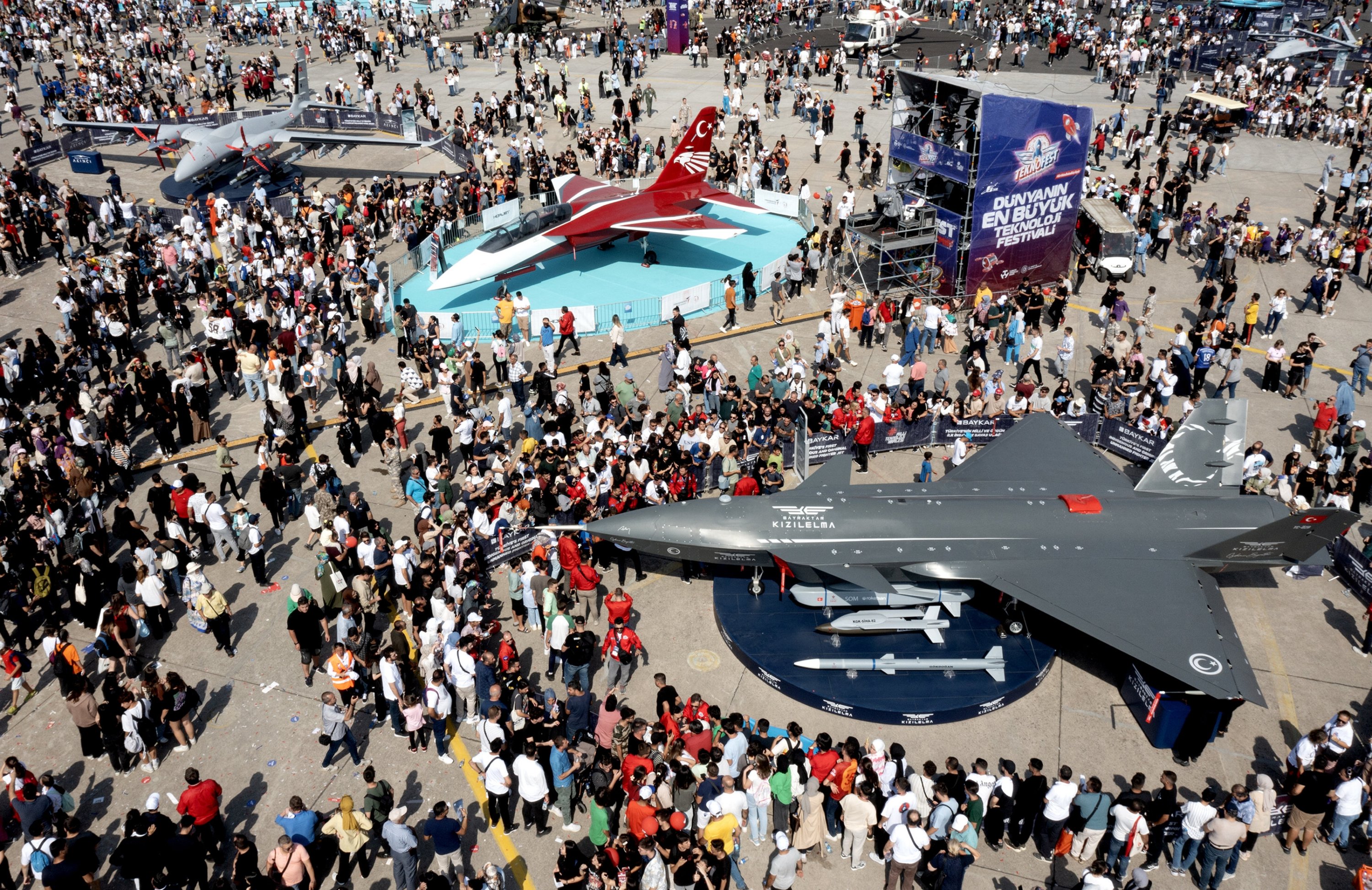 Kızılelma completed its maiden flight in December. Bayraktar said TB3 would perform its first flight after Teknofest, Türkiye's largest aerospace and technology festival, currently underway in the Aegean province of Izmir.
"It will be the first to land and take off from a ship. Türkiye, the United States and Israel, let's see who will do it first," Bayraktar told a separate event in Izmir on Tuesday.
Bayraktar asserts that the new drones would revolutionize Türkiye's military reach, facilitating surveillance and pinpointing attacks across continents due to enhanced flight capabilities and operational ranges.
Kızılelma represents a significant expansion of capabilities for slow-moving reconnaissance and missile-carrying drones. It promises to increase the top speed and carrying capacity of the existing platforms.
Bayraktar said Kızılelma is the future of aviation combat. "Now, the last manned fighter jets are being produced in the world. From now on, all the combat aircraft that will be developed will be unmanned," he noted.
Powered by a jet engine, Kızılelma shows similar exterior features to fifth-generation fighter jets. In addition to conventional drone missions, it will be able to conduct air-to-air engagements.
The autonomous maneuvering platform will be capable of operating in tandem with piloted aircraft and may carry air-to-air missiles, according to the company.
"Hopefully, it will become available to our country in 2024. There is a great demand from the world," Bayraktar said.
The TB3 is the first of its kind boasting the ability to fold its wings. It is expected to be able to stay in the air more, climb to higher altitudes and carry more weapons than TB2.
Bayraktar said the TB3 will have a range of 1,000 nautical miles, that is, 1,900 kilometers.
The number of TB2s produced to date has exceeded 500, according to Bayraktar, who said the company's output capacity has increased by 50% over the past year.
He said 82% of the company's revenues have been made from exports in the last 20 years.
Source: DailySabah